The Aspiring Athlete Scheme supported by InspireAll, is a programme designed to help athletes get to that next step in their sporting achievement. The programme provides expertise these partnerships have to offer.
The scheme is available to residents of Hertfordshire or Milton Keynes, with the aim to provide assistance and free access to the leisure facilities to allow athletes to train and achieve their goals.
The scheme is run on a yearly basis and is open to applicants aged between 11 – 28 years of age, which can be extended to aged 35 in the cases of disabled athletes.
For further information or to apply for the Aspiring Athlete Scheme contact us or complete the application form.

Rachel Robinson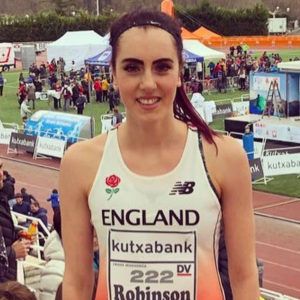 In January 2019 I earned my first senior England vest for cross country running but unfortunately a few months later ruptured my hamstring caused by a freak accident/fall during a race. Having run since the age of 11 years old and never been injured it came as a shock to me that I would need an operation to attach the muscle back onto my sitting bone.
The Aspiring Athlete Scheme has been an absolute saviour to me, the use of Bletchley's gym and pool have really helped me be able to complete my rehabilitation exercises to ensure my leg is strong enough to make the return to running. I have also made use of the pool and cardio equipment to ensure I keep my base fitness.
It was nearly been 4 months since the operation now and everybody at the centre, both staff and members have been very encouraging- offering advice and always checking in on how I am progressing. I am only a few weeks away from being able to run again now and I will be continuing to use the centre to build strength, core stability and rehab. Thanks for all your support InspireAll.
Sam Winters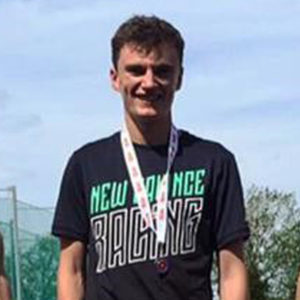 I started running at the age of 9, I remember my first race like it was yesterday. There were over 300 boys running around the MK bowl, I finished 3rd and received a letter asking me to come along to Milton Keynes Athletics Club, and since then I have never looked back. I still to this day hold the U13 1500m & U15 3000m club records.
After many years of running, I decided to take a rest from the sport I loved to travel the world.
Upon my return to England, I quickly rejoined the club where it all started and I was running quicker than I ever had before. In my first year back I was County Champion for 800m, I finished 8th fastest male athlete all-time in MK for 800m and 6th fastest for 1500m.
This year I am the 800m and 1500m County Champion and was a silver medalist at the South of England championships back in June. I was also aiming to better my rankings in the MK all-time list by beating the current club records and ultimately becoming the number one ranked MK athlete for both 800m and 1500m.
Unfortunately, things didn't quite go to plan this year and I have suffered from injuries which stopped me from achieving my goals, mainly due to weaknesses from not doing enough strength work. However, with the support of the Aspiring Athlete Scheme, I could benefit from making use of the Bletchley Leisure Centre facilities to help me improve, reach my full potential, and achieve the ambitious goals I have set myself for next summer. With access to the gym, heated swimming pool and classes available, I could beat those winter blues and become fitter, faster and stronger.
My target next year is to become the 800m and 1500m Club Record holder, retain my County titles and to race at the British Athletics Championships in August.
Elle Roche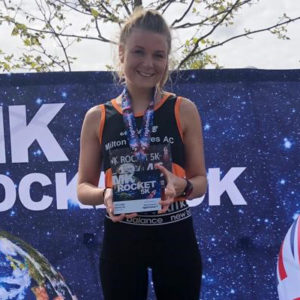 Athletics became a huge part of my life at the age of 11, and like every athlete, I've had my fair share of success and failures.
I'm currently and have been the 1500m County Champion for the past 5 years and I achieved my first Senior Cross Country County title earlier this year. I dedicate a lot of time to my running and these successes make the hard work in training worth it. However, it's always hard when you get a setback. I've had my fair share of these over the years, most significantly a stress fracture in my left ankle which set me out for almost a year. I've never been brilliant at keeping my strength work going but with the help of the Aspiring Athlete Scheme, I know I'll be more dedicated than ever to strengthen these weaker areas. It's also always helpful to have an alternative like swimming when you're feeling a little tired after a tough running session. This will no doubt enable me to be stronger, fitter and injury-free. My goal next year is to break the all-time MK Ladies 1500m and 3000m track records, where I currently lie 2nd and 3rd. With the help of this scheme, I know I can achieve my goals.