The Aspiring Athlete Scheme supported by InspireAll, is a programme designed to help athletes get to that next step in their sporting achievement. The programme provides expertise these partnerships have to offer.
The scheme is available to residents of Hertfordshire or Milton Keynes, with the aim to provide assistance and free access to the leisure facilities to allow athletes to train and achieve their goals.
The scheme is run on a yearly basis and is open to applicants aged between 11 – 28 years of age, which can be extended to aged 35 in the cases of disabled athletes.
For further information or to apply for the Aspiring Athlete Scheme contact us or complete the application form.

Zoe Blythe-Shields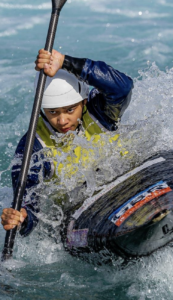 "Following in her sister footsteps, Zoë's love for Canoe Slalom came after seeing how much fun her older sibling was having and was determined to make the Team GB herself.
Age 8 she started in division 4 and soon raced her way into the Premier Division. In 2016 Zoë was offered a place on the British Canoeing Talent Programme, where she would sometimes train up to 9 times a week doing White water, gym, flat water & sports psychology as well as attend training camps during holiday time.
Zoë soon became member of ENTS (England Nation Talent Squad), a select group of athletes who have the potential to be selected to the Great Britain Junior Team. In 2022 she made the GB Team to competing at the European & World Championship in Italy & Czech Republic.
Throughout the 2022 season, Zoë's racing performances were of a high standard and she ended the year as top junior in both Canoe & Kayak.
This year Zoë has once again made the GB Junior team, where she competed at the European Championship in Bratislava, winning a silver team medal and came 6th overall in C. She's looking forward to the Worlds Championship in August in Krakow, Poland."
Rachel Brown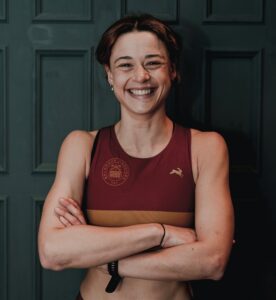 "I have been running since aged 11; competing in national track, XC competitions and marathons before the age of 19. Before I went to university, I wanted to try something different. At first, I got into the university rowing team but, as I was based in the beautiful Peak District at Sheffield University, I continued to run for fitness and compete in some university competitions. Soon I was swayed by a friend to start riding a bike, and not long after this I began to fall in love with the sport of Triathlon.
I had some successes competing as an age group triathlete and won a number of UK based races, however I always wanted to explore my potential further and I believed that, with the right input, I had so much more to give. In the last year and a half I started with a well-esteemed coach in pursuit of a professional career as a long distance triathlete.
During 2022, I competed in Ironman 70.3 (half distance triathlon) events for the first time. I am proud that I was able to adjust quickly to the increased distance and even excel, receiving my pro licence after only 3 races. A personal highlight was finishing 3rd overall in the Challenge event in Vansbro, Sweden against a professional field including those competing in the Swedish National Championships. Throughout this time, I have been working at the NHS as a Cognitive Behavioural Psychotherapist to help fund my sporting career.
I am now looking to pursue more ambitious racing goals next year, which will require a considerable commitment of time and financial investment. Competing at a professional level would not be possible without the support of trusted sponsors as it allows me to focus less of my energy on finances and more on constantly improving my performance, which is why the help of InspireAll is so valuable to me.
This season I am aiming for a podium finish at a 70.3-distance professional race to build my profile. I would also like to improve my swimming segment of the race and be able to stay with the front pack swimmers. My longer term goal is to be ranked within the top 40 and be invited to the PTO events.
Robert Poth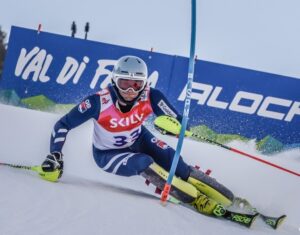 "I started skiing on my 3rd Birthday at Welwyn dry ski slope. I loved the sport so much I went straight into my first competition aged 4 at Hemel ski slope (when it used to be a dry ski slope!) and competed in my first race at age 5 in the Alps. Since then, skiing has always been a part of my life. Now aged 24 I can proudly say that I have been on the British Alpine National team for 13 consecutive years since aged 11 and I'm a member of Team GB.
Throughout my years on the national team, I have competed in numerous International events such as twice at the World Junior Alpine Championships and also, I am a European Youth Winter Olympian. My recent achievements to date include placing 3rd in a Continental Cup Giant Slalom, and currently I hold the British National Slalom Champion Title. I am hoping to defend it for another year at the end of the current season in April 2022 Tignes, France.
At the end of last season there was a huge career highlight for me. I was selected in a 4-man team for my World Cup debut to compete in the World Cup finals event in Lenzerheide, Switzerland in parallel Giant Slalom. Having made my debut in parallel giant slalom last year, it made me extremely hungry to achieve my World Cup debut in my chosen discipline of Slalom.
Currently I am ranked just outside the top 200 in the world for Slalom skiers and competing at Europa Cup level. My goals are to lower my world rank in order to compete at World Cup level and achieve my number one goal of competing with the best skiers in the World on the biggest stage. Alongside this, I also have my sights set on competing in the World Alpine Championships in 2023 in Courchevel/Meribel, France.
Throughout my career everything has been self-funded through my parents for which I am extremely grateful for. Around my training and competing I also work two part time jobs in order to help them as much as possible in funding my dream. So being a part of the Aspiring Athletes scheme at InspireAll is something I am immensely grateful for. Especially through the summer months having access to the amazing facilities on a daily basis in order to prepare and get into the best condition possible for my winter seasons ahead. Thank you for all the support InspireAll."
Cece Gordon-Hill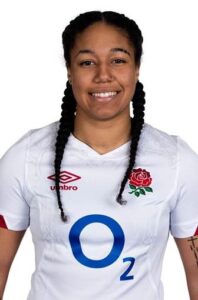 I remember vividly at the age of around 4 years old sitting in the living room with my family watching the six nations England men team playing on TV. I remember thinking that I would never play rugby in my entire life and couldn't comprehend why people would, little did I know what I had in store for me in the next 15 years.
At school I naturally gravitated towards sports but I was never hooked on any. I tried the likes of football, netball, golf, horse riding, swimming and even boxing but it wasn't until the first time I picked up a rugby ball I knew my calling. However, I should add that it was by chance I found this incredible sport; a fellow student (and teammate) Kelsey Clifford showed me how to spin pass one day after school during a kick about and suggested I should try playing for our local club, Old Albanian's. The journey to my first training session had me incredibly nervous and I questioned myself the whole drive there, but it wasn't until we drove through those gates and I saw everyone on the pitches I felt so inspired.
Since that one training session aged 14, I never looked back and was a regular for my club at U15's and U18's age group level. I was also fortunate enough when I was 15 to be involved within the RFU's national programme where different regions of the country would come together and compete, as well as being involved with Saracens Centre of Excellence Programme and England U18's TDG squad to face Wales.
At age 16, I was the only female in the Oakland's Rugby academy out of approximately 94 players during my first year of college. For my second year, I decided to make the move to Loughborough College and complete my Sport and Exercise Science diploma while signing to my first Premiership club, Loughborough Lightning. I was a regular starter for the development league as open side flanker and had my 1st XV appearance in January 2020.
After an amazing year at Loughborough, I decided to make the move back to South and signed a 3 year deal with Saracens Women in bid to push my progress and knowledge of the game. My debut for Saracens was as captain for the cup campaign against Worcester Women and my premiership debut was on 09/01/22 against DMP Sharks. Following the adventures of this season, I am involved in the England U20's squad set to face a number of nations.
Heidi Walsh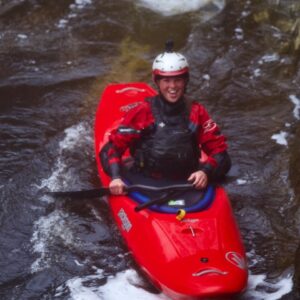 I am going into my 6th year on the GB Freestyle Kayak Team and am preparing for the World Championships on home turf in Nottingham this coming June. I am also trying to push the limits of extreme and expedition kayaking. In other words, I've been known to paddle big waterfalls and explore remote rivers around the world that have not been paddled before.
This year, I have also qualified for Team GB for British Triathlon's Age Group Team and will be competing at the European Championships in Munich in August. This came about as a culmination of lockdown boredom (and no access to kayaking), ice swimming and fitness gains from summiting some of the highest peaks in the Alps.
I'm incredibly grateful for the support from InspireAll as I am completely self funded and access to a gym will help me to stay strong and injury free.
Rachel Robinson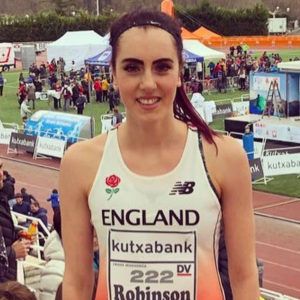 In January 2019 I earned my first senior England vest for cross country running but unfortunately a few months later ruptured my hamstring caused by a freak accident/fall during a race. Having run since the age of 11 years old and never been injured it came as a shock to me that I would need an operation to attach the muscle back onto my sitting bone.
The Aspiring Athlete Scheme has been an absolute saviour to me, the use of Bletchley's gym and pool have really helped me be able to complete my rehabilitation exercises to ensure my leg is strong enough to make the return to running. I have also made use of the pool and cardio equipment to ensure I keep my base fitness.
It was nearly been 4 months since the operation now and everybody at the centre, both staff and members have been very encouraging- offering advice and always checking in on how I am progressing. I am only a few weeks away from being able to run again now and I will be continuing to use the centre to build strength, core stability and rehab. Thanks for all your support InspireAll.
Sam Winters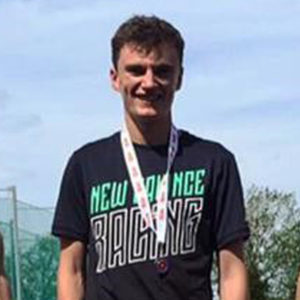 I started running at the age of 9, I remember my first race like it was yesterday. There were over 300 boys running around the MK bowl, I finished 3rd and received a letter asking me to come along to Milton Keynes Athletics Club, and since then I have never looked back. I still to this day hold the U13 1500m & U15 3000m club records.
After many years of running, I decided to take a rest from the sport I loved to travel the world.
Upon my return to England, I quickly rejoined the club where it all started and I was running quicker than I ever had before. In my first year back I was County Champion for 800m, I finished 8th fastest male athlete all-time in MK for 800m and 6th fastest for 1500m.
This year I am the 800m and 1500m County Champion and was a silver medalist at the South of England championships back in June. I was also aiming to better my rankings in the MK all-time list by beating the current club records and ultimately becoming the number one ranked MK athlete for both 800m and 1500m.
Unfortunately, things didn't quite go to plan this year and I have suffered from injuries which stopped me from achieving my goals, mainly due to weaknesses from not doing enough strength work. However, with the support of the Aspiring Athlete Scheme, I could benefit from making use of the Bletchley Leisure Centre facilities to help me improve, reach my full potential, and achieve the ambitious goals I have set myself for next summer. With access to the gym, heated swimming pool and classes available, I could beat those winter blues and become fitter, faster and stronger.
My target next year is to become the 800m and 1500m Club Record holder, retain my County titles and to race at the British Athletics Championships in August.
Elle Roche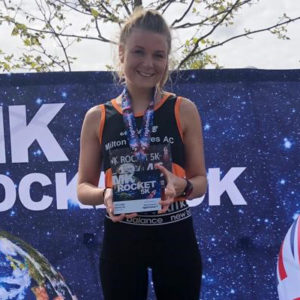 Athletics became a huge part of my life at the age of 11, and like every athlete, I've had my fair share of success and failures.
I'm currently and have been the 1500m County Champion for the past 5 years and I achieved my first Senior Cross Country County title earlier this year. I dedicate a lot of time to my running and these successes make the hard work in training worth it. However, it's always hard when you get a setback. I've had my fair share of these over the years, most significantly a stress fracture in my left ankle which set me out for almost a year. I've never been brilliant at keeping my strength work going but with the help of the Aspiring Athlete Scheme, I know I'll be more dedicated than ever to strengthen these weaker areas. It's also always helpful to have an alternative like swimming when you're feeling a little tired after a tough running session. This will no doubt enable me to be stronger, fitter and injury-free. My goal next year is to break the all-time MK Ladies 1500m and 3000m track records, where I currently lie 2nd and 3rd. With the help of this scheme, I know I can achieve my goals.