We know that it's currently an uncertain and challenging time for everyone. To help we have put together some activity packs and some other ideas that will help you keep the children happy and entertained.
NEW Swimming Home Activity Pack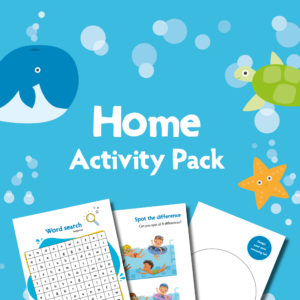 As we aren't currently able to offer your children their normal swimming lessons, we have developed a home activity swimming themed pack with plenty of swimming themed puzzles and games to keep them entertained.
There are word searches and puzzles to keep them entertained.  Download your swim activity pack here
Rookie Lifeguard Activity Sheets
The Royal Life Saving Society UK (RLSS UK) are keen to continue to provide water safety education while the schools are closed. They have some fun activity packs for young Rookies to work through.
https://www.rlss.org.uk/news/entertain-your-rookies-while-the-schools-are-closed
Swim England Activity Sheets
Are you home schooling your children? A range of free content covering aquatics-themed topics has been made available by Swim England. They have created a great range of over 20 worksheets covering a variety of subjects including water safety, swimming terms, word searches, spot the dangers.
They also have a variety of worksheets for the swimming strokes, so if your child is missing their weekly lesson why not use these worksheets to talk to them about what they would normally do in their lessons. Download the activity sheets here 
School's Out Comedy Club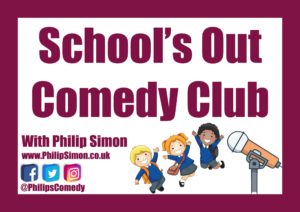 For anyone looking for ways to entertain your children for free during the lockdown, stand up comedian and resident compere at Borehamwood Comedy Club hosted at 96 Shenley Road, Philip Simon has created School's Out Comedy Club – A series of short joke-filled comedy videos where the jokes are submitted by children of all ages for Philip to tell. You can even send videos of the children telling their jokes to have the chance to star in the video also.
All the videos are available on YouTube and you can subscribe watch every episode for FREE here. If you would like to get involved you can also submit jokes and videos here. You can find out more about comedian Philip Simon, on one of the following channels.  YouTube   Facebook     Twitter   Instagram
Captain Calamity Lock Down Specials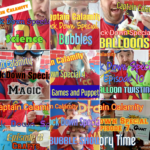 The children will love these weekday Lock Down Shows brought to you by multi award winning family entertainer, Guinness World Record breaker and regular guest of 96 Shenley Road, Captain Calamity. Captain Calamity Lock Down Specials are a series of videos aimed at engaging young minds during this difficult time. The shows are approximately 20 mins each covering a particular subject or skill. They are filmed 'as live' with no edits on a phone camera mounted on a tripod. Captain Calamity is ably assisted by his son's Zak and Luca.
Captain Calamity presents this show in his own inimitable style. Expect lots of silliness, laughter and just an ounce of education… but not too much. Don't worry. Shows include Magic, Bubbles, Science, Storytelling, Balloons, Games, Puppetry and lots of fun and silliness.
You'll find these shows and lots of other great videos on The Captain Calamity Adventures YouTube Channel. Take a look here. Subscribe today and click the bell icon for update each time a new show us uploaded.