Welcome Back to Live Entertainment
We will continue to make your booking and visit as secure and free from worry as we can.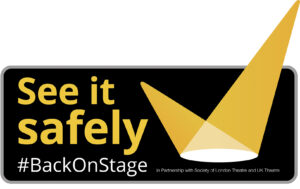 Wyllyotts has been awarded the coveted Theatre 'See it Safely' Licence. Mask wearing is now voluntary in the auditorium as well as around the building.
Our new ventilation system automatically exchanges the air keeping the environment fresh and safe. Our additional cleaning and hand sanitiser will remain in place, so that we continue to ensure the safety of everyone within our building.
Contactless ticketing is accepted – no need to print your tickets.
Terms and Conditions re: Ticket Exchange or Credit Refund due to a positive Covid test result;
Please notify the Wyllyotts Theatre at least 24 hours in advance of the film or show.
No refund will be given, only a credit to the value of the ticket/tickets purchased.
Where applicable we can exchange the ticket/tickets to another performance or screening. There is a £1.50 per ticket exchange fee.
Book online or call Box Office 01707 645005