Welcome Back to Live Entertainment
There's nothing to beat the thrill of a live show and we all deserve something to look forward to this autumn.
Wyllyotts is now fully open for theatre, cinema and all our community activities. Check online or call our box office for all our activities.
While you were away we benefitted from a Culture Recovery Fund grant and were able to install a Covid compliant full fresh air ventilation system and building management system with no recirculation of air, so it's as close to being outside as is possible.
Here's what we are doing to make your booking and visit as secure and free from worry as we can;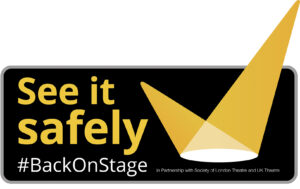 Wyllyotts has been awarded the coveted Theatre 'See it Safely' Licence
Mask wearing is now mandatory in the auditorium as well as around the building.
Our brand new ventilation system automatically exchanges the air keeping the environment fresh and safe.
Enhanced cleaning, screens and hand sanitiser remain
Contactless ticketing – no need to print your tickets
Terms and Conditions re: Ticket Exchange or Credit Refund due to a positive Covid PCR test related reason;
Please notify the Wyllyotts Theatre at least 24 hours in advance of the film or show.
You are required to supply a copy of your Covid result in order to obtain a credit.
No refund will be given, only a credit to the value of the ticket/tickets purchased.
Where applicable we can exchange the ticket/tickets to another performance or screening. There is a £1.50 per ticket exchange fee.
Book online or call Box Office 01707 645005
---
Wyllyotts Theatre is thrilled to announce that we have been awarded a grant as part of the #CultureRecoverFund.
The funding, delivered by Arts Council England, on behalf of the Department for Digital, Culture, Media and Sport (DCMS) is part of the government's £1.57bn Culture Recovery Fund to help facilities who face the challenges of the coronavirus pandemic.
Everyone has been affected by the pandemic and the arts industry is facing its greatest challenge yet. With the help from Arts Council England and the DCMS this grant will help us secure a future for Wyllyotts Theatre.
This grant is a lifeline to help us bring back a range of cultural events in a Covid secure way.
Thanks to the government's #CultureRecoverFund we can continue to be #HereForCulture and we cannot wait to provide you with further information about our events as soon as possible.